New phase
2013 is an important year in the history of Q-Park.
In consultation with the shareholders we have assessed the sustainability of the hybrid structure of our company for the longer term. The parking company (Opco) and the real estate company (Propco) each have their own activities and revenue model.
It seems advisable to offer the capital market and our other stakeholders greater transparency regarding the value creation of our activities. We have therefore decided to split Opco and Propco internally, each with their own business model. This creates more clarity about the positions, activities, investments and the expected return on investment in each of the divisions.
The current joint management and shareholder structure will remain in place until the end of 2016. Depending on developments, the shareholders will then decide whether it is desirable and possible to continue as two separate companies.
Revenue growth
The effects of the economic recession are visible in Q-Park's results for the first time in 2013. Parking revenues were under pressure and growth was less than budgeted. Compared to 2012, revenue remained practically unchanged; adjusted for currency effects, it increased by 1.2%.
Q-Park did not join in the price war that has arisen in the car parking market. We remain committed to our quality and ask a justified fee for the services we provide. Price and availability can influence the behaviour of people parking. This is our vision and we will discuss this with municipalities and other clients. Our objective is to help them keep the city accessible and liveable. We can play a role in this with our smart information and reservation systems.
Developments in investment property
As usual with an economic downturn, the investment property market lags behind. The supply of interesting new investment objects, near shopping centres, for example, was meagre. Q-Park will continue to concentrate the portfolio on multifunctional inner city locations where housing, shopping, working and recreation continue to attract people.
We have analysed our portfolio with new and existing locations more sharply and reconsidered our prior investment decisions. We have worked hard to renegotiate or terminate parking facilities with a negative margin. We have therefore terminated several contracts and extended some others under more favourable conditions.
Our divestment programme has gone according to plan. There is much interest among institutional investors and private funds for our solid investment category.
We are concentrating our efforts on existing profitable parking facilities which we renovate and upgrade to the Q-Park quality standard. This offers us opportunities to make long-term changes according to the BREEAM In Use standard, of which we are the leader in our industry.
Efficiency
In order to maintain and improve the return on our activities, we continue to work on further improving the efficiency of our operating activities. In this, learning from each other is our strength. We are satisfied with the pace and the results of these operational changes and the resulting savings, more than EUR 5 million.
Innovation
A very important development that began to take shape in 2013 is the introduction of the new payment system that enables automatic payments through identification at the barrier. This means we can offer our customers greater convenience and comfort. For Q-Park the advantages are chiefly financial and operational: this improves the cash flow and fewer physical actions are required to empty payment machines and deposit money. This is also safer for our employees. Thanks to our economy of scale, we have been able to agree good contracts with European payment machine suppliers for this system.
Financial developments
There are two aspects to the Q-Park 2013 financial year: on the one hand, satisfaction about the stability of the operating results and the successful refinancing, amounting to EUR 300 million, and on the other, the adjustment in the value of our investment property by EUR -292 million.
With the EUR

300 million refinancing with two institutional parties we have minimised the refinancing risk for the next five years.
We are also satisfied with the EUR

742.2 million revenue as well as the EUR

185.2 million operational result before taxes and depreciation. However, the number of new projects that became operational fell short of our expectations.
The downward revaluation of the investment property is mainly due to adjustments to our cash flow projections, which were also influenced by lower inflation in 2013 whereby prices increased less than budgeted.
The like-for-like growth of our parking revenues amounted to 2.6% at a weighted average inflation of 1.6%.
The relevant bank ratios remained well within the covenants agreed with the banks:
interest coverage ratio of 2.2 (target: > 2.0)
net debt/EBITDA ratio of 7.5 (target: <8.0).
Organisation
In the past few years we have made considerable progress in the development of our European strategy. We have grouped the ten country-specific operational companies into four clusters; the Netherlands, Germany and Belgium (Mid); Great Britain and Ireland (West); France (South); and Denmark, Sweden, Norway and Finland (North). We have also established a European Management Team.
Mr Rob Vroom was appointed as interim CFO on 1 July.
Opco-Propco
The internal Opco-Propco split offers many opportunities for the future. There are many more acquisition opportunities for the real estate company through expansion in countries and other urban areas. For the parking company there are growth opportunities in the expansion of parking services and innovative parking solutions, as well as improvements in return due to the economies of scale.
New leadership
Q-Park closed the year with a positive operational result and with this, has created a good foundation for the coming years. Q-Park is well funded and leads the way in innovation and sustainability. In 2013 we announced that CEO Ward Vleugels will retire in 2014 from a company that is now entering a new phase with confidence.
Our quality philosophy remains intact, we have the right people in house to fulfil these promises, and the best locations. This offers ample opportunity to continue to grow strongly for a successful future. We would like to thank everyone who has shown their confidence in us during the past year and who has contributed to where Q-Park now stands.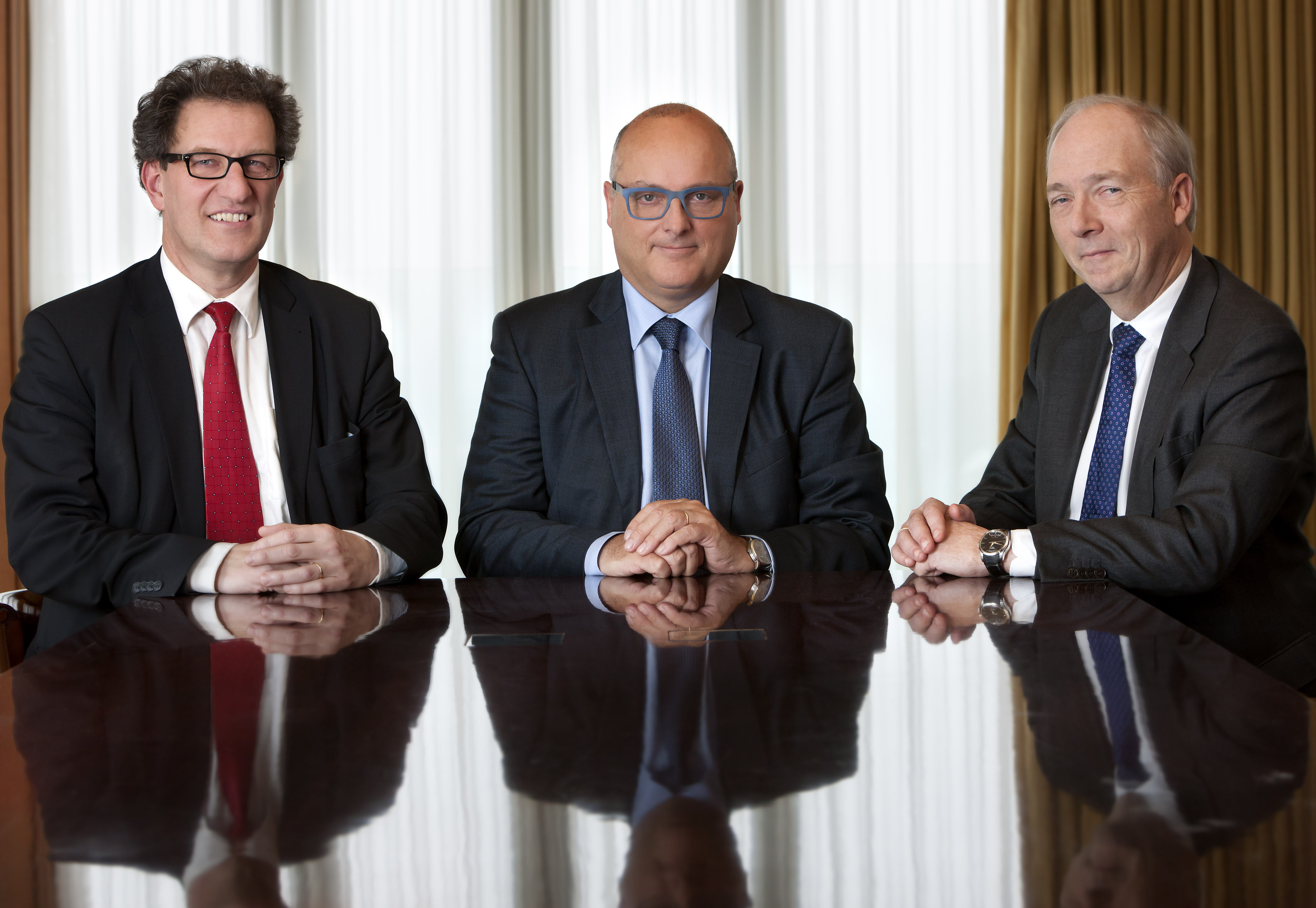 Executive board
Ward Vleugels - CEO
Theo Thuis - COO
Rob Vroom - CFO
Maastricht, Friday 21 March 2014