Responsible Parking
Quintessence is the basis
Our view is that regulated parking offers the answer to the five urban challenges: mobility, facility, society, economy and environment. Using a selective media campaign, Q-Park wants to share its expertise and improve attitudes towards regulated parking. The publication 'Quintessence – The logic behind paid parking' plays a central role here. We also discuss this theme at length in our CSR report Responsible Parking 2013.
Corporate responsibility highlights in 2013
We have defined our corporate social responsibility (CSR) objectives up to 2017 not in absolute numbers but in percentages. This enables us to see the extent to which each country contributes to the various objectives. The objectives for some of our performance indicators are reasonably achievable, but we also have some indicators which are much more ambitious. The degree of contribution to the more ambitious objectives is therefore more heavily weighted in the management assessment of a country.
That assessment is a measure of the response to the importance of CSR within Q-Park and is therefore also included in a remuneration adjustment. From 2013, the bonus structure for managing directors is linked to their CSR performance. A substantial part of the bonus, 20%, is related to the CSR results.
We are proud that we have again risen in the Dutch Ministry of Economic Affairs Transparency Benchmark. We are now in 45th position.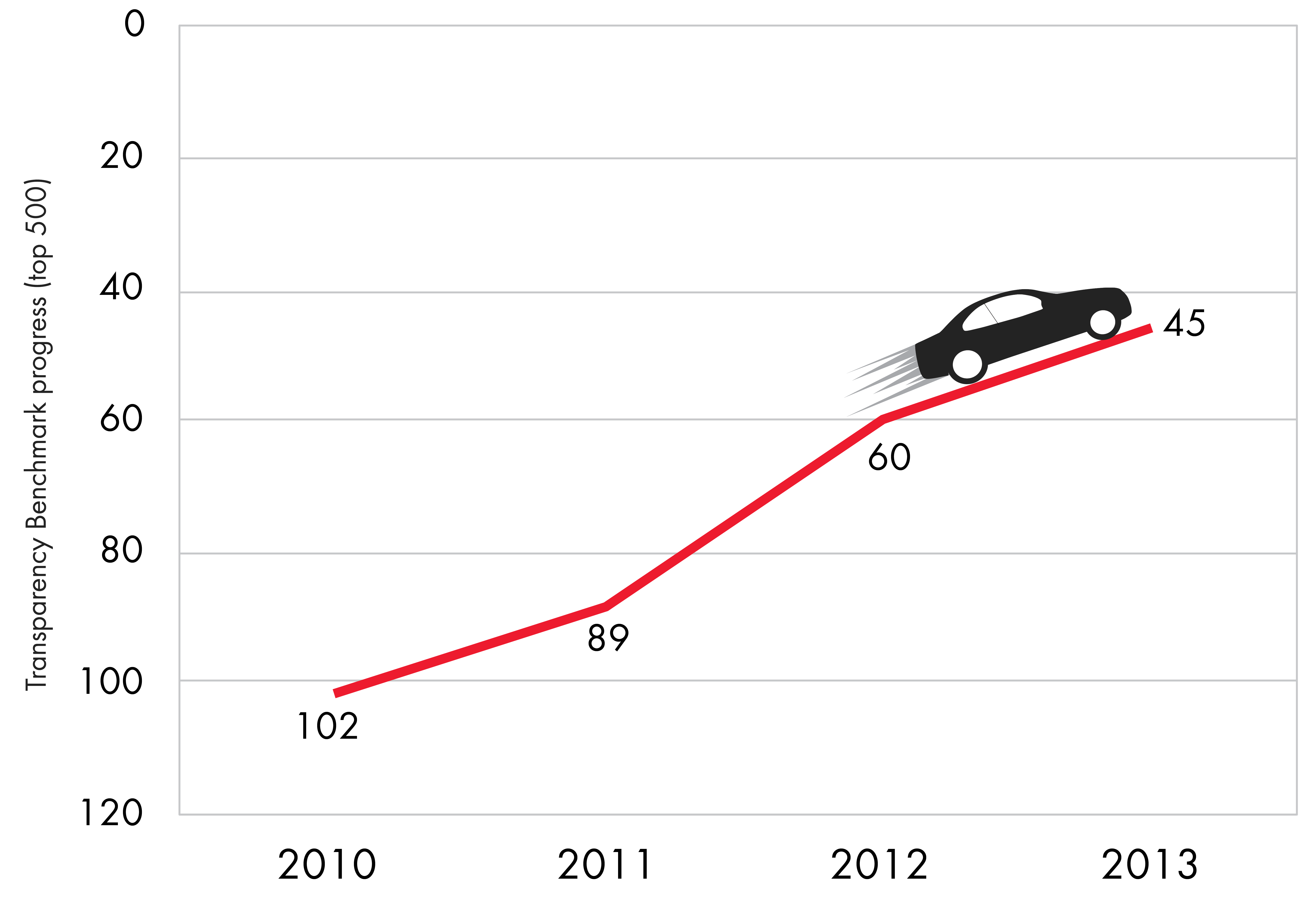 In 2013, we drew up a materiality matrix. This is an overview of CSR issues that we and our stakeholders consider most important to our business.
We reported on 2012 in accordance with the Global Reporting Initiative (GRI) 3.0 standard. For 2013 we are making the step to GRI 4. This means that we must pay greater attention to themes that are material (relevant) to our own organisation. The CSR report should reflect this. Any non-material information will no longer have a place in the report, so the reader gains a clear impression of our CSR objectives and strategy.
Care of the environment
To a certain extent, care of the environment is a legal requirement, but Q-Park considers care for the environment as a material part of its CSR policy. For example, two years ago, Q-Park Netherlands began to draw up a Company Environmental Plan, based on the ISO 26000 guidelines. In 2012, the ISO 14001 certification was achieved.
The following material aspects are included in our report:
For limiting traffic cruising for a place to park (reduced emissions):

Installing Parking Route Information Systems outside the parking facilities which include the number of vacant spaces.
Making real-time information concerning the accessibility and number of vacant parking spaces available to navigation systems, to smartphones and through websites.
In the car parks, having good parking management systems (PMS) with short response times, clear routing, signage and angled parking bays.

Energy savings: by installing LED or T5 light fittings, adjusting the ventilation systems, energy-saving PMS and, when renovating facilities, installing energy-saving equipment, including energy-saving lifts and ventilation systems (also included in the Company Environmental Plan).
Providing information about public transport and operating P+R car parks.
There are also environmental aspects on which we do not report, but which are exemplary to our care for the environment. These include installing oil and petrol separators, using environmentally friendly cleaning products and ensuring that products harmful to the environment are stored safely.
Q-Park has anchored its (societal) duty for a sound CSR policy and more. Q-Park was actively involved and much of our knowledge was appreciated and included in the development of criteria for the certification of a BREEAM label for existing parking facilities.